Activities in Jogja [EN] – Jogja is a special region which become one of the favorite tourist destinations in Indonesia. Who doesn't want to have a vacation in Jogja? This city has everything, from cultural tourist attractions, culinary, natural tourism, to instagramable and aesthetic tourist attractions.
When you travel here for the first time, you will be amazed by this city. Even if you have traveled to Jogja so many times, you can still explore and find new attractions and activities to try. And here are activities recommendations you must try when you travel to Jogja.
Top 5 Places To Visit in Yogyakarta
1. Malioboro

Malioboro is the main street in Jogja filled with shops, restaurants, and people selling traditional batik and souvenirs. Your visit to Jogja would be incomplete without a stop at Malioboro. You can leisurely stroll while shopping for souvenirs or take a "delman" a horse-drawn carriage ride around. Don't forget to take photos at Tugu Jogja, which is not too far from Malioboro.
At night, you can also enjoy "angkringan" or night culinary around here.
2. Prambanan Temple

One of the temples that can be visited in Jogja is Prambanan Temple. This beautiful and majestic temple is one of the proofs of Hindu religious heritage in Indonesia and is also a UNESCO World Heritage site.
3. Borobudur Temple

Even though it's located in Magelang, visiting Borobudur Temple is a must if you're on vacation in Jogja. You can drive there in about 1 hour from Jogja.
Borobudur Temple is one of the wonders of world architecture. Moreover, it's also a renowned spiritual and cultural centre of Buddhism, as well as a significant symbol of Indonesia's cultural heritage and a UNESCO World Heritage site. You can also enjoy the beauty of the sunrise at Borobudur Temple.
4. Gumuk Pasir Parangkusumo

Gumuk Pasir is one of the fascinating places in Yogyakarta, known for its beautiful sand dunes and exotic landscapes. It is located along Parangkusumo Beach in Bantul, approximately 30 kilometers from the city center of Yogyakarta. This place is often a destination for tourists looking to spend relaxing moments amid open nature and enjoy spectacular sunsets.
You can do many activities here, including sandboarding, cycling, taking a jeep tour, or enjoying fun off-road adventures around the expansive sandy area.
5. Mount Merapi

Mount Merapi is one of the most active volcanoes in Indonesia. You can have a unique experience here by riding a Jeep and touring with a guide. Typically, you will be taken to the historical and important landmark of Merapi Mountain.
Experience a wide range of exciting packages to explore Jogja with OTAQU
If you want to travel to Jogja, either with your friends or family, now you can choose a wide range of tour packages to explore the captivating city of Jogja on OTAQU. Whether you're seeking cultural immersion, thrilling adventures, or a relaxing getaway, OTAQU offers a diverse selection of exciting tour options that cater to every traveler's preferences and interests. Your journey to Jogja will not be just a trip but an unforgettable experience. Here is the list of packages you can choose when you travel to Jogja on OTAQU.
1. Touring to Borobudur and surroundings with VW Safari

If you want to enjoy a vacation while taking cool photos on a well-maintained classic VW car with your friends or family, you must try VW Safari Borobudur Tour. The rental price for a VW Safari starts from IDR 400,000,0-, for a maximum of 4 (four) people in one car and includes 1 (one) driver.
You will be taken on a tour around the tourist village near Borobudur and visit interesting spots like Puthuk Setumbu, Bukit Rhema (Chicken Church), or Svargabumi while enjoying the beautiful green rice field views.
Here are the prices for Borobudur VW Safari Tour packages:
2. Experience the Thrill of Fun Offroad at Gumuk Pasir Parangkusumo

Riding a jeep at Gumuk Pasir is an exciting and popular experience in Jogja. You can explore the sand dunes in a fun way. In addition to the sand dunes, you will also be taken to Cemoro Sewu Beach, Widuri Beach, Parangkusumo Beach, Parangtritis, and Karang Beach.
Here are the options for Fun Offroad Gumuk Pasir packages that you can book on OTAQU:
These packages are available every day and can accommodate a maximum of 4 (four) people in one jeep.
3. Experience the Jeep Lava Tour at Mount Merapi

After the eruption of Mount Merapi a few years ago, the Mount Merapi Jeep tour has become increasingly popular among tourists who want to witness the remnants of Mount Merapi's lava flows up close. Additionally, you will also visit famous historical sites around Mount Merapi, such as Bunker Kaliadem, which served as a shelter for volcanologists and volunteers during the observation and monitoring of Mount Merapi. Moreover, you will visit Museum Sisa Hartaku where you can find the evidence of Mount Merapi's eruption.
Mount Merapi Lava Jeep Tour Packages
This package starts at 03:30 AM and ends at 08:15 AM, allowing you to witness the sunrise at Mount Merapi and capture the best photos during sunrise.
This package starts at 06:30 AM and ends at 08:30 AM. You will visit the Museum Sisa Hartaku, Alien Stone, and Bunker Kaliadem.
The route for the medium trip is the same as the short track package. However, you are given more time to explore each destination, allowing you to take more photos. This package starts from 06:30 AM to 09:00 AM.
If you want to enjoy and spend more time when traveling around Mount Merapi, you can take this long track package with a duration of 3.5 hours, from 06:30 AM to 10:00 AM. In addition to visiting the Museum Sisa Hartaku, Alien Stone, and Bunker Kaliadem, you will also visit Mbah Marijan's House.
Price is for renting 1 (one) Jeep with a maximum capacity of 4 (four) people. It includes a driver, fuel, and admission tickets to the tourist attractions. You just sit back and enjoy the view during the trip.
Book Airplane Tickets for Your Vacation to Jogja

A holiday in Jogja is always exciting. There are always new things to do and new places to visit in Jogja.
So, plan your vacation to Jogja in advance by booking your airplane tickets through OTAQU, either via the website or app. For those who haven't downloaded the OTAQU app yet, you can download it from Play Store and App Store.
Let's travel to Jogja now!
*Information is accurate as of the time this article was written. Prices and other terms may change at any time.
---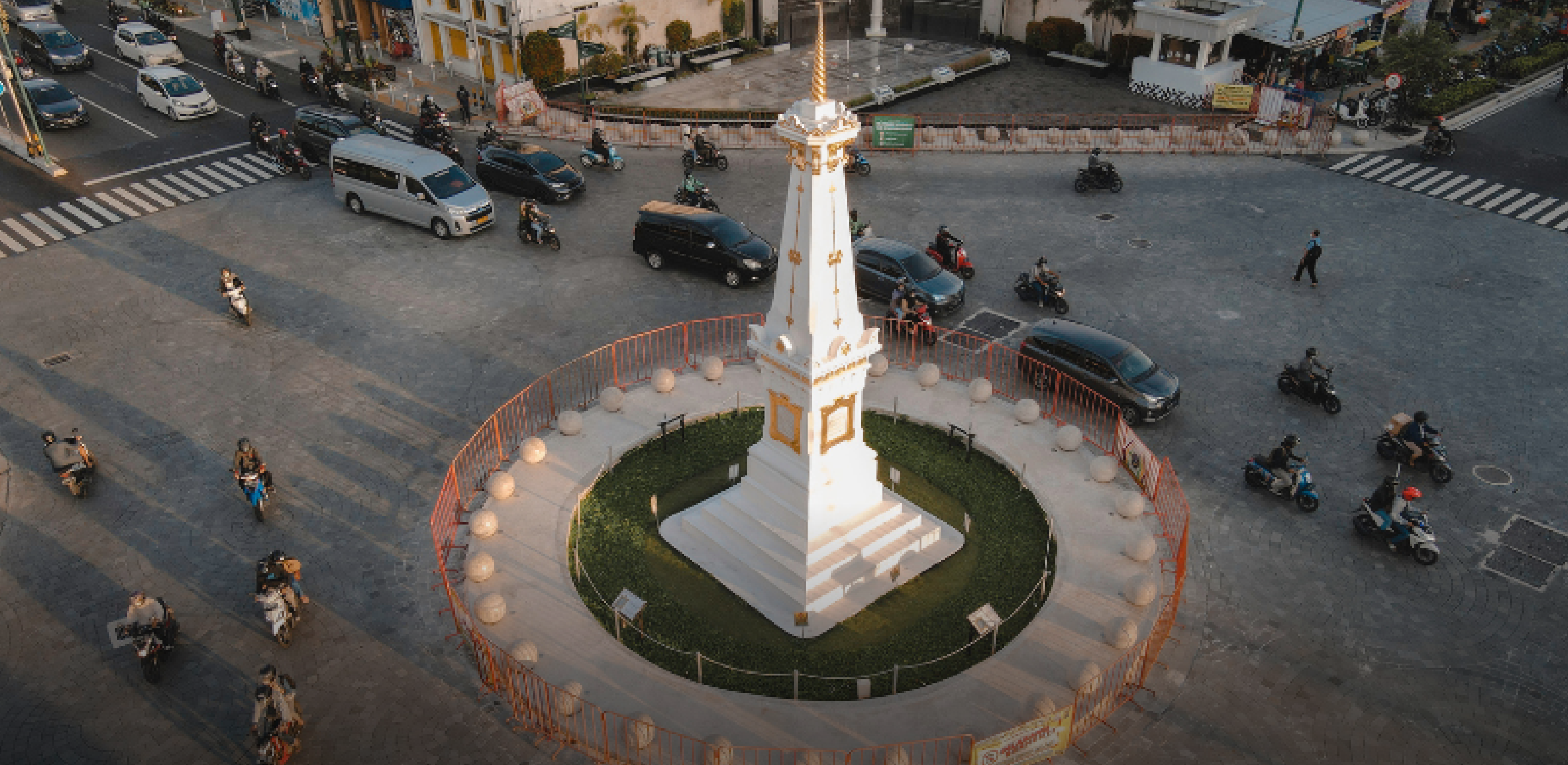 Pilihan Aktivitas Seru Yang Wajib Kamu Coba Selama Liburan di Jogja
Aktivitas Seru di Jogja [ID] – Jogja merupakan kota istimewa yang menjadi salah satu destinasi wisata favorit di Indonesia. Siapa sih yang nggak pengen liburan ke Jogja? Kota ini memiliki segalanya, mulai dari wisata budaya, kuliner, wisata alam, hingga tempat wisata estetik yang instagramable pun ada.
Buat kamu yang baru pertama kali liburan ke Jogja ataupun yang sudah beberapa kali berkunjung ke Jogja dan butuh ide aktivitas seru di Jogja, kamu bisa cek rekomendasi dari OTAQU di bawah ini ya!
5 Tempat Wisata di Jogja yang Wajib Dikunjungi
1. Malioboro

Malioboro adalah jalan utama di Jogja yang dipenuhi dengan toko-toko, restoran, dan penjual khas batik serta souvenir khas Jogja. Tak lengkap rasanya jika berlibur ke Jogja tanpa mampir ke Malioboro. Kamu bisa berjalan santai sambil berbelanja oleh-oleh atau berkeliling dengan delman. Jangan lupa juga berfoto di Tugu Jogja yang jaraknya tidak terlalu jauh dari Malioboro.
Saat malam hari, kamu juga bisa menikmati angkringan atau kuliner malam di sekitar sini.
2. Candi Prambanan


Salah satu candi yang bisa dikunjungi di Jogja adalah Candi Prambanan. Candi yang Indah dan megah ini merupakan salah satu bukti peninggalan agama Hindu di Indonesia dan juga merupakan Warisan Dunia UNESCO.
3. Candi Borobudur

Walaupun letaknya di Magelang, namun Candi Borobudur merupakan destinasi yang tidak boleh kamu lewatkan jika berlibur ke Jogja. Kamu bisa berkendara sekitar 1 jam dari Jogja.
Candi Borobudur adalah salah satu keajaiban arsitektur dunia. Selain itu, Candi Borobudur juga merupakan pusat spiritual dan kultural Buddha yang terkenal, serta menjadi simbol penting dari warisan budaya Indonesia dan Warisan Dunia UNESCO. Kamu juga bisa menikmati indahnya matahari terbit di Candi Borobudur.
4. Gumuk Pasir Parangkusumo

Gumuk Pasir adalah salah satu tempat menarik di Yogyakarta yang terkenal karena dataran pasirnya yang indah dan pemandangan yang eksotis. Tempat wisata ini terletak di sepanjang pantai Parangkusumo di Bantul, sekitar 30 kilometer dari pusat kota Yogyakarta. Tempat ini sering menjadi tujuan wisatawan yang ingin menghabiskan waktu santai di tengah alam terbuka dan menikmati matahari terbenam yang spektakuler.
Banyak hal yang bisa kamu lakukan di sini, diantaranya bermain sandboarding, bersepeda, naik jeep wisata atau fun offroad mengelilingi daerah pasir yang luas.
5. Gunung Merapi

Gunung Merapi adalah salah satu gunung berapi yang paling aktif di Indonesia. Kamu bisa merasakan pengalaman baru di sini dengan menaiki mobil Jeep dan berkeliling dengan pemandu wisata. Biasanya kamu akan diajak menyusuri bekas aliran lava, batuan vulkanik serta daerah yang terkena dampak pasca letusan Gunung Merapi.
Berbagai Pilihan Paket Aktivitas Seru di Jogja
Jika kamu ingin berlibur ke Jogja, baik bersama teman-teman maupun keluarga, sekarang kamu bisa memilih beragam paket wisata untuk menjelajahi kota Jogja di OTAQU. Mulai dari wisata budaya di Jogja, petualangan yang seru, maupun sekedar liburan santai, OTAQU menawarkan berbagai pilihan paket wisata yang menarik yang dapat disesuaikan dengan preferensi dan kebutuhan dari setiap wisatawan. Perjalananmu ke Jogja bukan hanya sekadar perjalanan biasa, tetapi akan menjadi pengalaman yang tak terlupakan.
Nah, berikut ini daftar paket yang dapat kamu pilih saat pergi liburan ke Jogja di OTAQU.
1. Keliling Borobudur dan sekitarnya dengan VW Safari

Buat kamu yang ingin liburan sambil foto-foto kece, kamu wajib cobain naik VW Safari. Harga sewa VW Safari sendiri adalah mulai dari 400 Ribuan, untuk maksimal 4 (empat) orang dalam 1 (satu) mobil dan termasuk 1 (satu) orang driver.
Kamu akan diajak berkeliling ke desa wisata di sekitar Borobudur dan spot-spot menarik seperti Puthuk Setumbu, Bukit Rhema (Gereja Ayam), atau Svargabumi, serta menikmati pemandangan persawahan yang Indah dan hijau.
Paket VW Safari Borobudur Tour:
2. Cobain Serunya Fun Offroad di Gumuk Pasir Parangkusumo

Naik jeep di Gumuk Pasir adalah pengalaman yang seru dan populer di Jogja. Kamu bisa menjelajahi dan mengelilingi gumuk pasir dengan cara yang menyenangkan. Selain ke gumuk pasir, kamu juga akan diajak ke Pantai Cemoro Sewu, Pantai Widuri, Pantai Parangkusumo, Parangtritis dan Pantai Karang.
Berikut ini pilihan paket Fun Offroad Gumuk Pasir yang bisa kamu pesan di otaqu:
Short Track : Rp. 472.500/jeep
Medium Track : Rp. 582.500/jeep
Long Track : Rp. 892.500/jeep
Paket ini bisa melayani kamu setiap hari dengan maksimum 4 orang dalam 1 jeep.
3. Rasakan Sensasi Wisata Jeep Lava Tour di Gunung Merapi

Pasca letusan Gunung Merapi beberapa tahun yang lalu, wisata Jeep Gunung Merapi semakin digemari wisatawan yang ingin melihat langsung bekas aliran lahar Gunung Merapi. Selain itu, kamu juga akan mengunjungi tempat bersejarah terkenal di sekitarnya, seperti Bunker Kaliadem yang merupakan tempat perlindungan yang digunakan oleh para petugas vulkanologi, sukarelawan selama pengamatan dan pemantauan Gunung Merapi. Selain itu juga, kamu akan berkunjung ke Museum Sisa Hartaku yang menyimpan sisa-sisa letusan Gunung Merapi serta Batu Alien.
Paket Merapi Lava Jeep Tour
Paket ini dimulai pukul 03.30 hingga 08.15 sehingga kamu bisa menyaksikan langsung sekaligus mengambil foto terbaik saat matahari terbit di Gunung Merapi.
Paket ini dimulai pukul 06.30 hingga 08.30. Kamu akan diajak berkunjung ke Museum Sisa Hartaku, Batu Alien dan Bunker Kaliadem.
Rute untuk medium trip ini sama dengan paket Short Track. Namun kamu diberikan kesempatan lebih lama saat kunjungan ke setiap destinasinya sehingga kamu bisa puas mengambil foto-foto.
Paket ini dimulai dari pukul 06.30 hingga 09.00.
Buat kamu yang ingin puas berkeliling tempat wisata sekitar Gunung Merapi, kamu bisa mengambil paket long track ini dengan durasi selama 3.5 jam, yaitu pukul 06.30 – 10.00. Selain ke Museum Sisa Hartaku, Batu Alien, Bunker Kaliadem, kamu juga akan berkunjung ke Rumah Mbah Marijan.
Harga di atas berlaku untuk sewa 1 (satu) unit mobil Jeep dengan kapasitas maksimum 4 (empat) orang. Sudah termasuk driver, bensin dan tiket masuk obyek wisata.
Pesan Tiket Pesawat untuk Liburan ke Jogja

Liburan ke Jogja memang tidak pernah membosankan. Selalu ada hal-hal baru yang bisa kamu lakukan serta tempat wisata baru yang bisa kamu kunjungi, baik bersama bestie ataupun keluarga.
Yuk, rencanakan liburanmu ke Jogja dari sekarang dengan memesan tiket pesawat di OTAQU, baik melalui website maupun app. Buat kamu yang belum download aplikasi OTAQU, kamu bisa download di Play Store dan juga App Store.
*Informasi valid saat artikel ini ditulis. Harga dan ketentuan lainnya dapat berubah sewaktu-waktu.